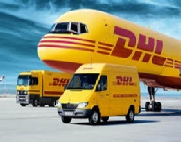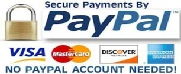 Competitivo Tienda online en el corazón de la Costa del Sol
Ver Carrito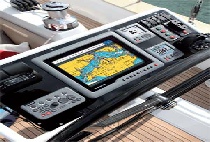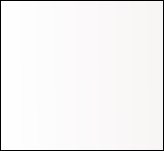 Raymarine Life Tag Man Overboard System
Wireless Man Overboard
Raymarine LifeTag is a personal man overboard (MOB) system that consists of a base station and wireless tags worn by crew members, family or pets. Raymarine LifeTag can be used as a standalone system or integrated into a Raymarine SeaTalk network.
Key features:
Basic system includes two Raymarine LifeTags and a base station

.

System can be expanded

(extra Raymarine LifeTags sold separately) to monitor up to 16 Raymarine LifeTags. Larger boats may be covered by an additional base station (max. of 2 base stations).

Supplied velcro strap

enables Raymarine LifeTags to be fitted around the wrist of an adult or child, an article of clothing, belt loop or a pet's collar.

LED for status feedback.

Replaceable CR2 Lithium batteries supplied

- expected battery life is one year (with over 2000 operational hours).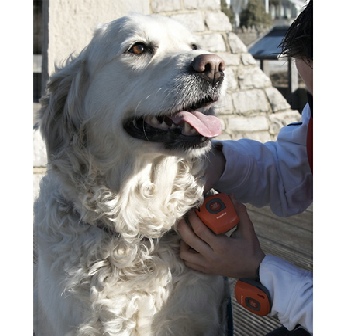 Easy to use
Each Raymarine LifeTag pendant broadcasts a unique identification code back to the Raymarine LifeTag base station, telling it that its wearer is "safe."
The lightweight Raymarine LifeTag pendant can be easily attached to your life jacket, PFD, safety harness or belt. Its featherweight (1.5 ounces) and compact size make it unobtrusive and easy to wear. Raymarine LifeTag's state-of-the-art electronics ensure a long battery life in excess of 2000 hours.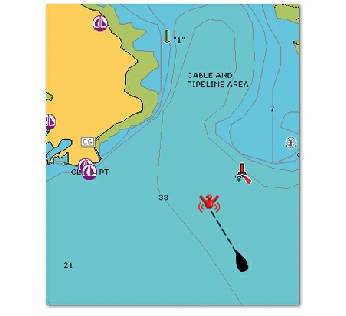 LifeTag System Warning:
The Raymarine LifeTag system is an aid to crew safety, and is an enhancement only of a vessel's main crew safety system. It is the responsibility of the captain and all crew members to ensure that all safety instructions and procedures are in place and obeyed with local requirements. Failure to operate this system in accordance with the operating instructions may result in unreliable or reduced system performance.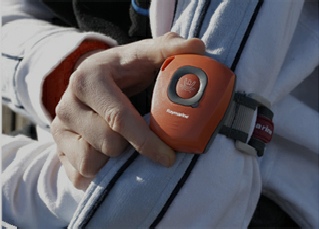 In an emergency
In the event of an actual man overboard situation, the victim's LifeTag signal is rapidly degraded by immersion in water, or as the distance between the victim and boat increase, typically 30ft (9m).
The LifeTag base station responds automatically by sounding an audible alarm onboard to roust other crew members.
Each Raymarine LifeTag is also fitted with a manual activation button. Pressing and holding the button for three seconds will manually trigger the system. This enables crew members to call for assistance in case of fire, flooding, medical emergency or other situations where an immediate response is needed.


Standalone or Integrated
Standalone Configuration
If a crew member falls overboard, or strays out of range - typically 30ft (9m) - contact with the base-station is lost and a loud alarm sounds.
SeaTalk Network
If you have a Raymarine SeaTalk network equipped with Raymarine multifunction displays or Raymarine ST60+ Graphic, ST70 or ST70+ instruments, an emergency Man Overboard alarm will be activated on the multifunction displays and instruments. In addition, the multifunction display will show an emergency waypoint (MOB) which is created automatically when the alarm is activated; it will also show the coordinates of and bearing to that emergency waypoint.
If the SeaTalk network contains a Raymarine ST60+ Graphic, then this too will automatically display the coordinates and bearing. This information can then be used to navigate back to the position where the MOB alarm was activated.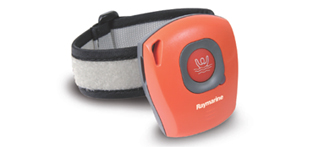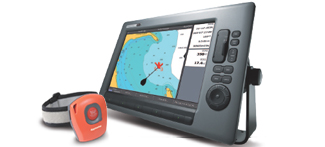 Intergrated into Sea Talk network